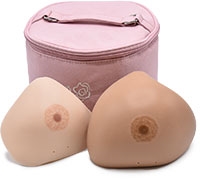 Custom breast prosthesis match the existing breast, nipple, size and color. It is considered non-surgical breast reconstruction, and can improve breast symmetry. It fits in the contours of your chest wall, and is unique to you.
The prosthesis is 50% lighter than any other on the market. Custom prostheses feel more natural; and are breathable and waterproof.
This prosthesis can ONLY be ordered with an appointment in our boutique, please contact us and we will be glad to send you information.